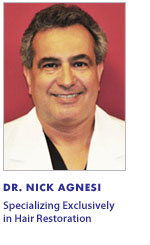 Nicholas Agnesi is one of the most experienced physicians in the treatment of hair loss, whether male pattern baldness, female pattern baldness, or burned-out scarring alopecia such as pseudopelade, or alopecia areata.
Dr. Agnesi, the founder and medical director of AHR Hair Restoration, is one of the leading hair transplant surgeons to offer natural results using innovative techniques in hair transplant surgery.
After meeting with patients, Dr. Agnesi focuses on their individual needs and helps each one to achieve his or her specific goals. Dr. Agnesi utilizes hair transplant surgery, medical treatments such as Propecia or Rogaine (minoxidil), low level laser therapy, as well as other means of hair restoration.
At AHR Hair Restoration, we realize that every hair transplant candidate has unique needs and desires. Therefore, each individual hair restoration patient's treatment plan is customized to their specific situation, including age, hair type, general health, degree of hair loss, lifestyle, and overall expectations.
There are a host of factors that must be taken into account with each patient before formulating the best plan: Some of the more important factors are: the patient's age, the hair-to-skin color contrast, the caliber of the hair, the patient's goals for later styling, and, perhaps most important, the ratio of available donor hair in relation to the recipient area in need of coverage.
HAIR TRANSPLANT AND RESTORATION SURGERY

,

 like all other plastic surgeries, is an art. It requires expert surgeon like Dr. Nicholas Agnesi, with over 25 years of surgical experience and a trained hand to create the most natural appearing results that are undetectable to even the most critical eye.
Dr. Nicholas Agnesi, a renowned hair transplant surgeon, places the strongest possible emphasis on establishing a solid doctor-patient relationship right from the start, which will help guide the patient through the entire hair restoration process.
Each patient is treated as a unique individual. At Advanced Hair Restoration, we realize that every patient has unique needs and desires.
Dr. Agnesi is renowned for his keen aesthetic sense in performing hair transplants and his exceptional surgical skills.
Our Hair Transplant Philosophy
Our basic philosophic approach begins with a time-honored idea: "Do one thing and do it well."
At Advanced Hair Restoration, we don't do face lifts, tummy tucks, breast implants, or any other such procedures.  We concentrate our energies on performing the best hair transplantation possible. 
We endeavor to produce a natural appearing hairline with single, one follicle (called a follicular unit) graft. We move four to six times as much hair as the standard approach, using follicular unit grafts throughout producing a completely natural result.
More hair per session means a smaller number of sessions required to produce the desired result.